Audition Opportunities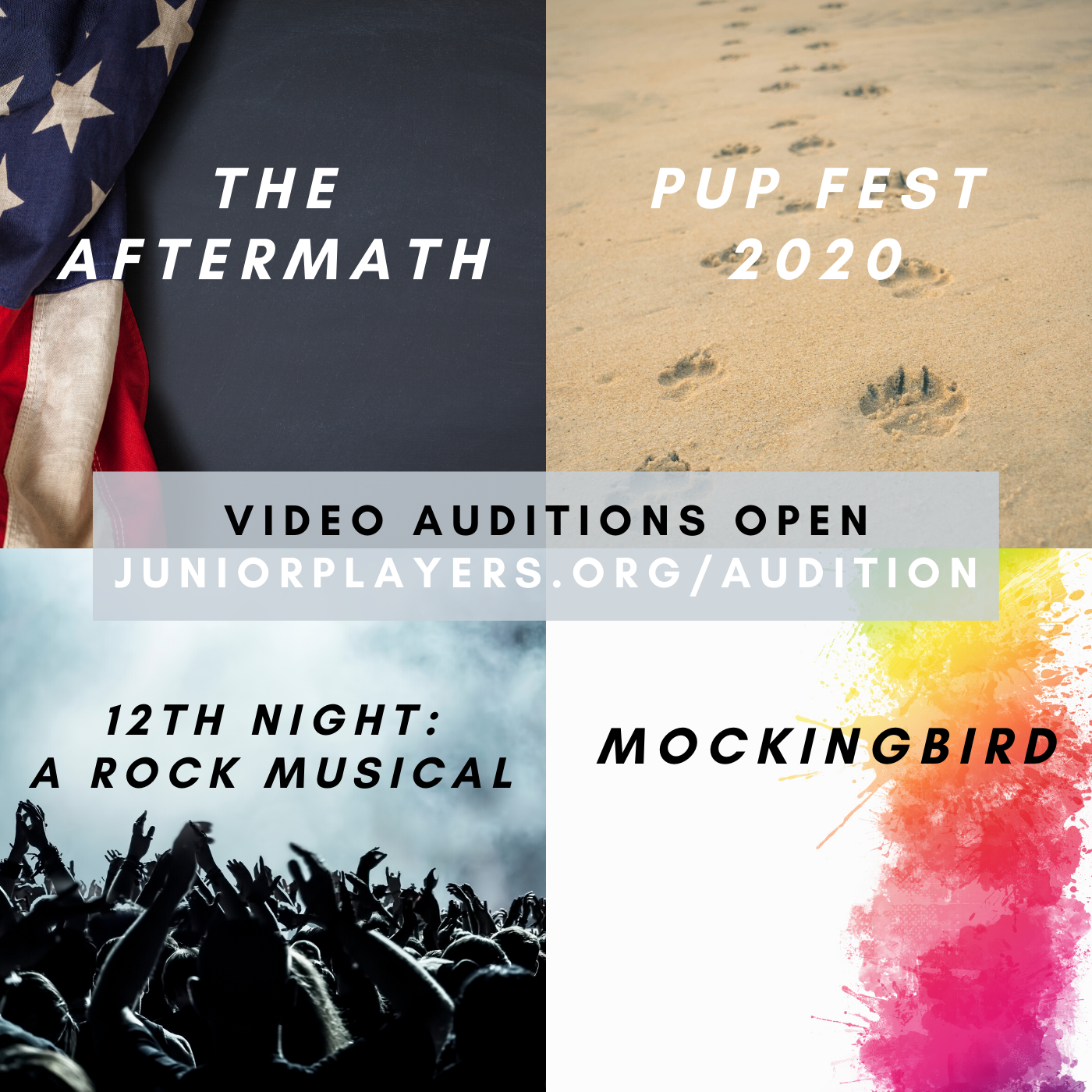 *Due to the Coronavirus (COVID-19), all auditions for our 2020 Season of Clarity will now be video auditions. Video auditions are open now through April 11, 2020 at 5 pm.*
Thank you for your patience and understanding!
If you are interested in auditioning for any of our upcoming productions, please fill out the form below.
If you are interested in auditioning in The Aftermath, PUP Fest, and/or Mockingbird, please upload a 1-2 minute contemporary monologue in the space indicated on the form below.
If you are interested in auditioning for 12th Night: A Rock Musical, please upload a 1 minute Shakespearean Monologue as well as 16 to 32 bar cut from a song in the style of the show (this can be with a track, live accompaniment, or acapella) in the spaces indicated in the form below.
The Aftermath | Bishop Arts Theater | May 28 - 31, 2020
·         Junior Players Presents: The Aftermath interweaves stories about gender, family, power and determination to create an unforgettable piece, based off challenges our teens are currently facing in their day-to-day lives. The day is Tuesday, November 5th. The time, 7:27 AM. It's election day in Dallas, Texas and every second counts. Within 24 hours, either Abbey or Marcus will start leading their school into the future as Senior Class President, Tyne will create unintended waves through participating in a Day of Silence, and the fate of Mayoral Candidate, Gloria, will be determined. Watch as these tense political races shape the future of their ecosystems and how even the smallest action can create a ripple effect. This powerful production inspired by real life events in the City of Dallas reminds us that all objects and events are connected.
PUP Fest | Booker T. Washington HSPVA | June 6, 2020
·         PUP Fest is a collaborative program with Junior Players, Kitchen Dog Theater, and Dallas ISD - Playwriting Arts Collective (D-PAC) for high school playwrights, where we bring 6 incredible scripts written by teens to life.
12th Night: A Rock Musical | Samuell-Grand Park Amphitheater | July 28 - August 2, 2020
·         Illyria is the new Coachella when The Bard becomes the new sensation as his text is mixed into original infectious rock/pop style melodies in a new production out of California of this classic gender bending comedy. Join us as the madness for love unfolds after a shipwrecked Viola falls onto the Illyrian Shores.
Mockingbird | University of Texas at Dallas | August 13 - August 16, 2020
·         Caitlin is an 11-year-old girl on the autism spectrum. Not all things make sense to her. Emotions are mysterious and voices are almost always too loud. Suddenly, she must grapple with the unthinkable: a mass shooting has taken her brother away. He was the one person who helped her cope. Now she is alone with her grieving father and a cacophony of children at school. She struggles to understand empathy, what facial expressions mean and why a drawing might have more than one color. We see the world from Caitlin's point of view. We struggle as she does. We also take comfort in the times when she finds a friend, draws a multicolored mockingbird and can finally cry for her brother.