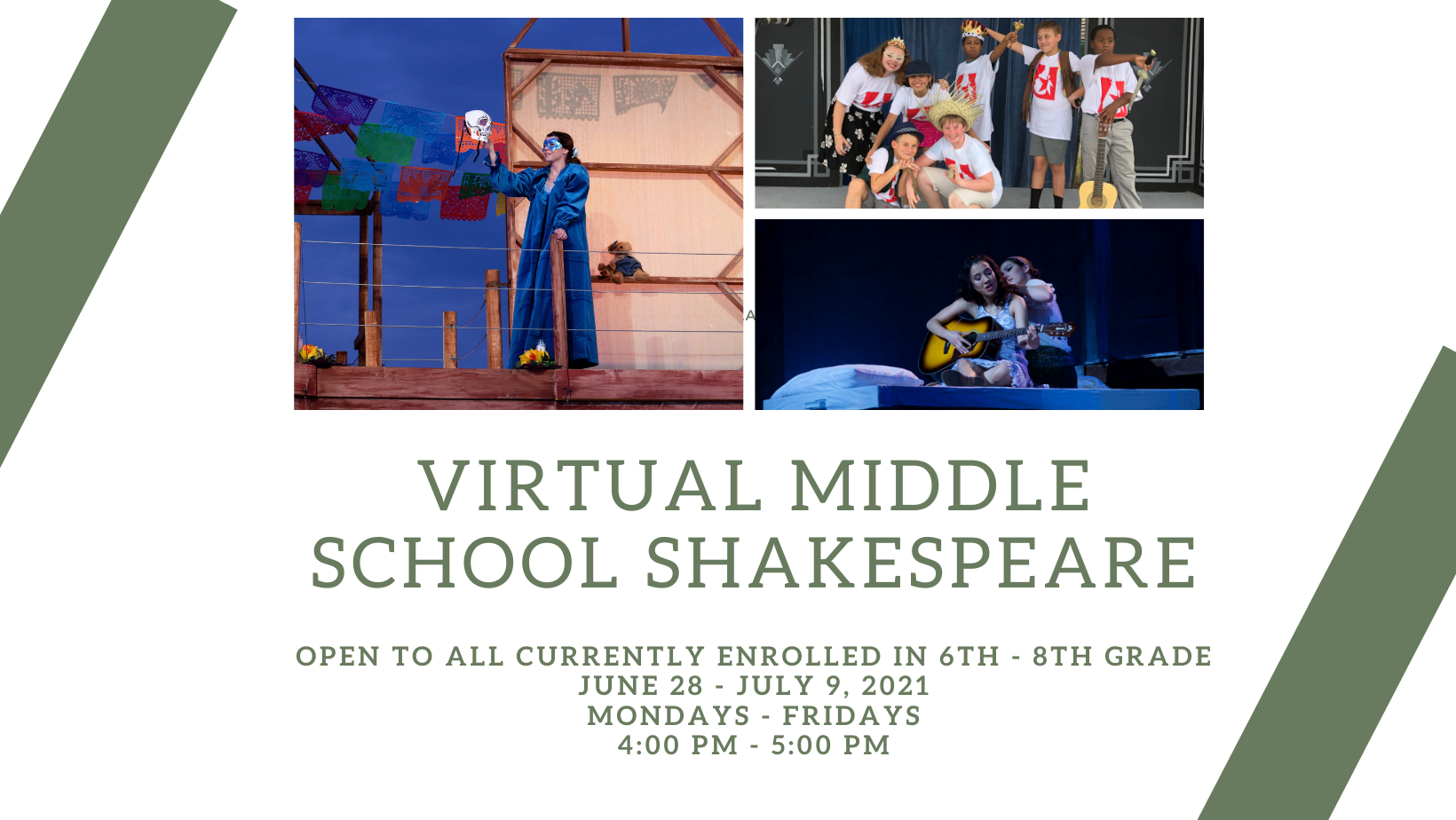 Don't miss out on Junior Players Middle School Shakespeare Camp! During this class, students will work with industry professionals to learn how to work with Shakespearean text and language and why Shakespeare's plays are still relevant and important to our world today!
Open to all currently enrolled in 6th - 8th grade | June 28 - July 9, 2021 | Mondays - Fridays | 4:00 pm - 5:00 pm
Fill out the form below to sign up today!
*WAIVER AND RELEASE OF LIABILITY*
In consideration of my child(ren) being allowed to participate in the Junior Players Middle School Shakespeare Workshop via Zoom conference calls, I the undersigned parent/guardian of the child acknowledge, appreciate and agree that: I, for myself and on behalf of my heirs, assigns, personal representatives and next of kin, HEREBY RELEASE AND HOLD HARMLESS JUNIOR PLAYERS GUILD and ZOOM.US, their officers, officials, agents and/or employees, other participants, sponsoring agencies, sponsors, and, if applicable, owners and lessors of premises used to conduct the event ("Releasees"), with respect to any and all injury, disability, death, or loss or damage to person or property, whether arising from the negligence of the releasees or otherwise. I have read this release of liability and assumption of risk agreement, fully understand its terms, understand that I have given up substantial rights by signing it and sign freely and voluntarily without any inducement. 
*Junior Players Photo/Video Release*
I hereby assign all rights and release from liability Junior Players for the recording, reproduction, exhibition, cablecasting and distribution of my visual image, biography, voice, musical and/or theatrical performance, and musical text and/or written text materials used in such performance in connection with the production for non-profit use.
*FOR PARTICIPANTS OF MINOR AGE*
This is to certify that I, as parent/guardian with legal responsibility for this participant do consent and agree to his/her release as provided above of all the Releasees, and, for myself, my heirs, assigned and next of kin, I release and agree to indemnify the Releasees from any and all liabilities incident to my minor child's involvement or participation in these programs as provided above, even if arising from the negligence of the releasees to the fullest extent of the law.