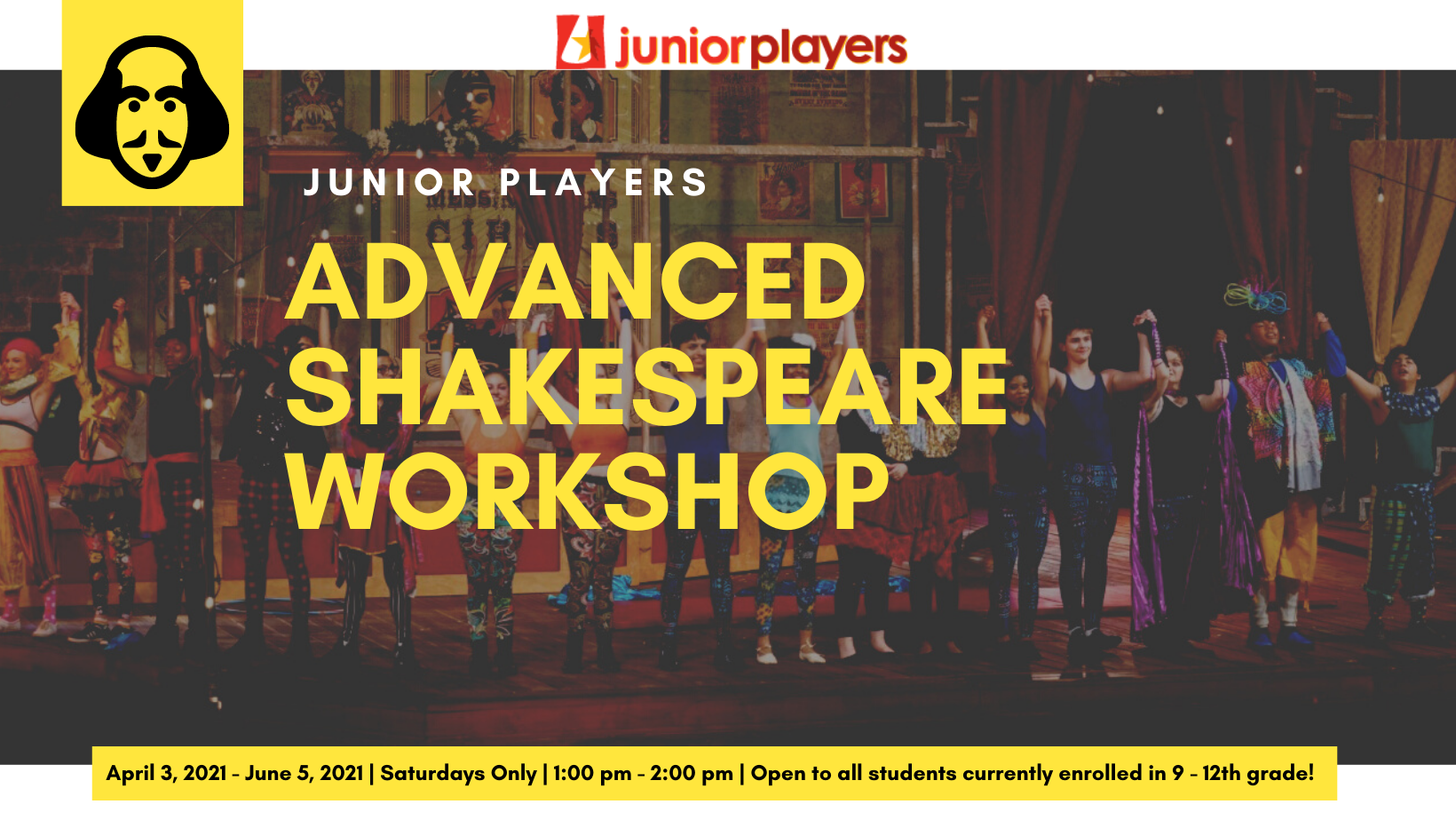 Join Junior Players for our free virtual Advanced Shakespeare Workshop! Learn from industry professional, Carter Gill, and prepare for upcoming auditions for 12th Night: A Rock Musical all from the comfort of your own home!
Carter Gill worked in New York for almost 12 years. In New York, Carter was a cast member in Punchdrunk's production of Sleep No More in New York. He is a Helen Hayes award nominee for Shakespeare Theatre Company's Comedy of Errors. He created and developed Commedia Dell' Artichoke, a long running, site-specific Comedy, and Even Maybe Tammy, both Commedia Dell'Arte, both of which were Off-Broadway after their creation and initial productions. Regional Theatre Credits: Colorado Shakespeare Festival in The Merchant of Venice, Yale Repertory Theatre in Eurydice (dir. Les Waters), Berkshire Theatre Festival in Moonchildren (dir. Karen Allen), Actors Theatre of Louisville in The 39 Steps, and TheatreWorks Silicon Valley in 3 Farids (New Works Festival) Film/TV Credits: Banana Split on Netflix, NBC's Law & Order, CBS's Person of Interest, AMC's Turn: Washington's Spies, and TV Land's Younger.
Carter studied Clown with Philippe Gaulier in France, and Physical Comedy for three years with Christopher Bayes, Yale School of Drama's current Head of Physical Acting, as a teaching apprentice at Juilliard and Yale. Carter is currently Professor Adjunct at Pace University, New York University, Rider University and Marymount Manhattan College teaching Movement, Acting, Clown, Commedia. He studied Shakespeare at the British American Dramatic Academy. Carter holds a BFA in Directing from Southern Methodist University and an MFA in Acting from Yale School of Drama.
All students currently enrolled in grades 9 - 12 are eligible to participate!
April 3, 2021 - June 5, 2021 | Saturdays Only
1:00 pm - 2:00 pm
Fill out the form below to sign up today!
*WAIVER AND RELEASE OF LIABILITY*
In consideration of my child(ren) being allowed to participate in the Junior Players Advanced Shakespeare Workshop via Zoom conference calls, I the undersigned parent/guardian of the child acknowledge, appreciate and agree that: I, for myself and on behalf of my heirs, assigns, personal representatives and next of kin, HEREBY RELEASE AND HOLD HARMLESS JUNIOR PLAYERS GUILD and ZOOM.US, their officers, officials, agents and/or employees, other participants, sponsoring agencies, sponsors, and, if applicable, owners and lessors of premises used to conduct the event ("Releasees"), with respect to any and all injury, disability, death, or loss or damage to person or property, whether arising from the negligence of the releasees or otherwise. I have read this release of liability and assumption of risk agreement, fully understand its terms, understand that I have given up substantial rights by signing it and sign freely and voluntarily without any inducement. 
*Junior Players Photo/Video Release*
I hereby assign all rights and release from liability Junior Players for the recording, reproduction, exhibition, cablecasting and distribution of my visual image, biography, voice, musical and/or theatrical performance, and musical text and/or written text materials used in such performance in connection with the production for non-profit use.
*FOR PARTICIPANTS OF MINOR AGE*
This is to certify that I, as parent/guardian with legal responsibility for this participant do consent and agree to his/her release as provided above of all the Releasees, and, for myself, my heirs, assigned and next of kin, I release and agree to indemnify the Releasees from any and all liabilities incident to my minor child's involvement or participation in these programs as provided above, even if arising from the negligence of the releasees to the fullest extent of the law.