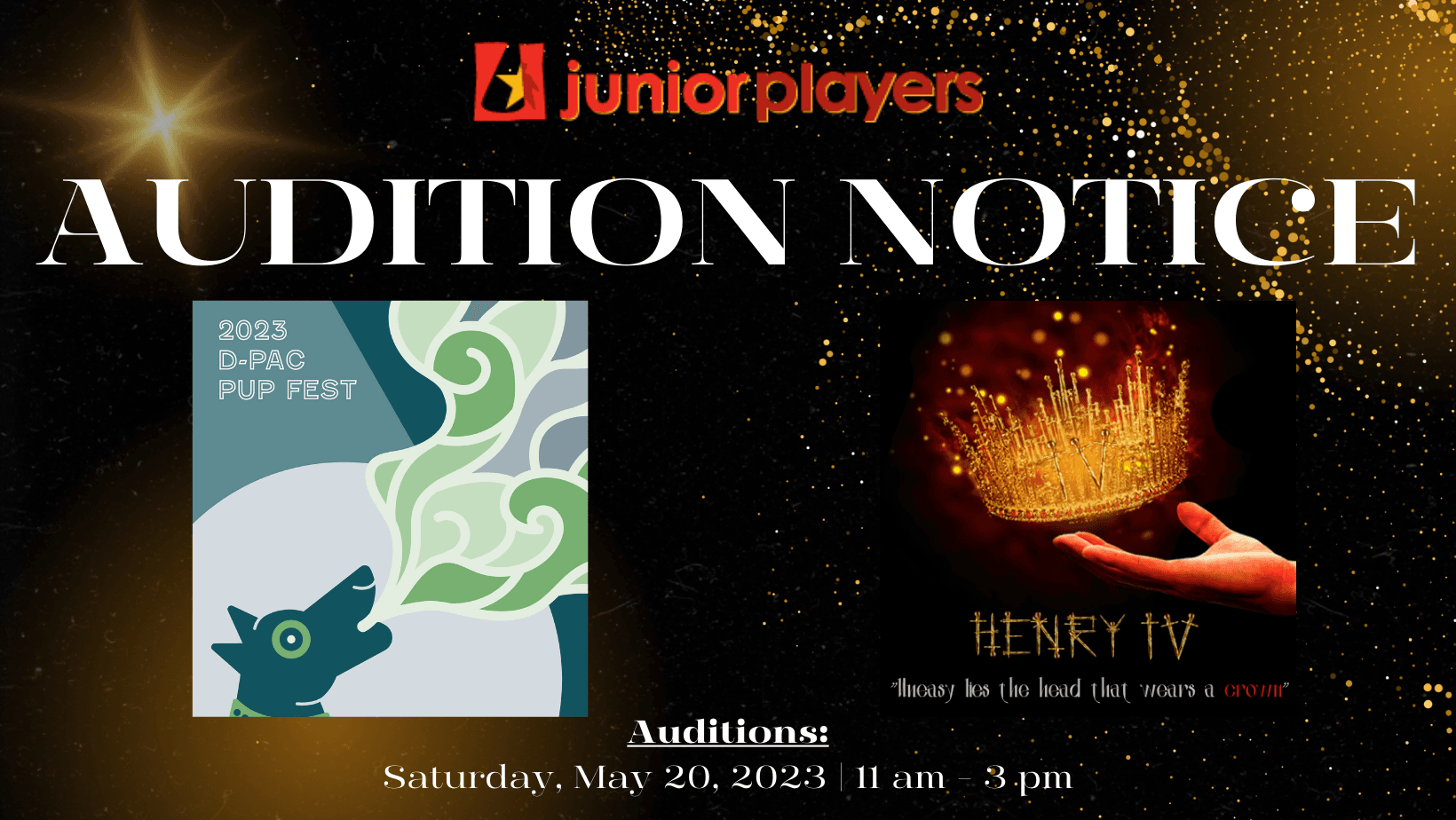 Thank you for your interest in our 2023 Season of Healing!
RSVPs for in-person auditions are currently closed. 
If you were unable to RSVP for a time slot for in-person auditions, please contact Events and Productions Manager, Dhruv Iyengar, at events@juniorplayers.org for virtual options. 
Show Information:
PUP Fest
Our PUP (Playwrights Under Progress) Festival takes 6, 10-minute scripts, all written by playwrights in high school, and produces them on stage! In partnership with Kitchen Dog Theater, we pair our playwrights with professional directors and are now searching for actors to bring them to life. If you prefer contemporary stories, written by peers your age, then this might be for you!
PUP Fest rehearsal schedule -  June 5 - 9, 2023:
Monday through Thursday from 1pm - 4pm with optional but encouraged workshops in the morning from 10 am to noon
Friday from 12 - 5pm
PUP Fest performance - Saturday, June 10, 2023 1 pm and 4 pm
Henry IV
In Shakespeare's Henry IV, Hal struggles between choosing the court life that his father, Henry IV, so desperately wants him to inherit and the rowdy tomfoolery and fun that Falstaff and his friends attempt to sway him towards instead. Hilarious, touching, and dealing with themes of family, power, and honor, we're taking a Shakespearean classic and infusing elements of Dungeons and Dragons, Hook, Game of Thrones, and Lord of the Rings into our exploration of the text. NO SHAKESPEARE EXPERIENCE REQUIRED!
Henry IV rehearsal schedule (Rehearsals at SMU Meadows Hall):
June 26 - June 30 from 10 am - 5 pm
July 5 - 26 (Monday - Friday) from 10 am to 5 pm
Henry IV tech - July 27 - 31 from 6 pm to 11 pm
Henry IV performances - August 1 - 6; cast call 6 pm
*All rehearsal information is subject to change*