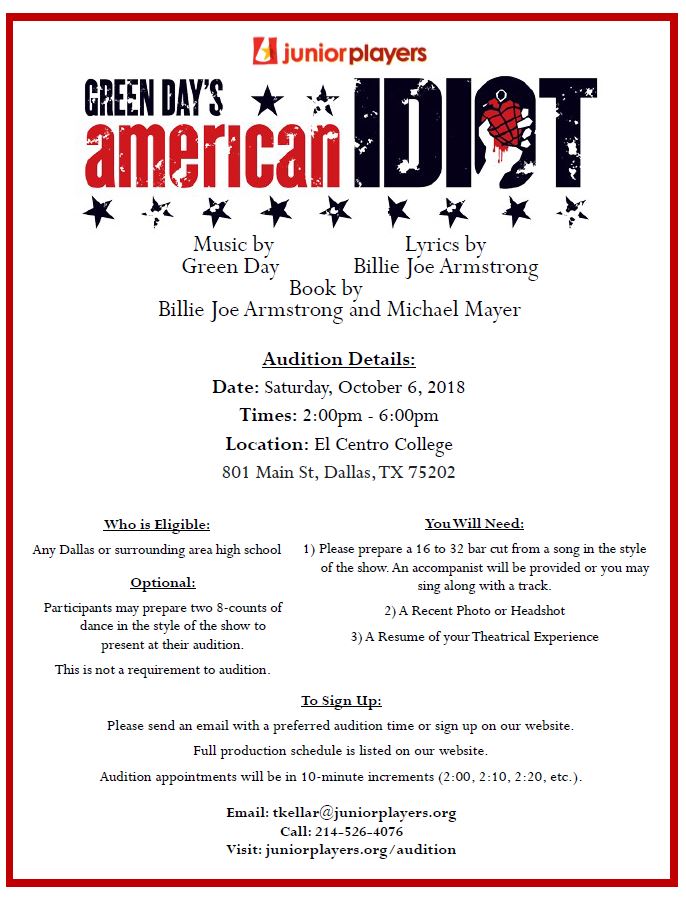 The two-time Tony Award-winning hit musical Green Day's American Idiot, based on the Grammy Award-winning multi-platinum album, boldly takes the American musical where it's never gone before. Johnny, Tunny and Will struggle to find meaning in a post-9/11 world. An energy-fueled rock opera, American Idiot, features little dialogue and instead relies on the lyrics from Green Day's groundbreaking album to execute the story line. American Idiot is a high-concept show with strong social messages and endless creative possibilities.
Who is Eligible:
Any Dallas or surrounding area high school student who is currently in grades 9-12. Junior Players is looking for a diverse, talented cast and will be both gender-blind and color-blind casting American Idiot.
You Will Need:
1) Please prepare a 16 to 32 bar cut from a song in the style of the show. An accompanist will be provided or you may sing along with a track.
2) A Recent Photo or Headshot
3) A Resume of your Theatrical Experience
Optional:
Participants may prepare two 8-counts of dance in the style of the show to present at their audition.
This is not a requirement to audition.