George Mathew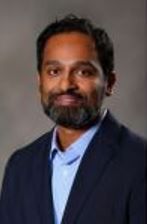 George Mathew is a senior leader at JPMorgan Chase with nearly two decades of financial services experience. He excels at building and commercializing innovative solutions at scale to solve strategic and complex business challenges. His strong achievement record is bolstered by his passion for driving a high-performance culture, and identifying and developing future leaders.
George is currently part of the Wholesale Payments business, leading efforts to leverage the firm's expensive data and analytical capabilities in order for client coverage teams to become trusted advisors and improve effectiveness when prospecting and managing relationships. Prior accomplishments include establishing the standard framework adopted for client relationship reviews and strategic account planning, standing up an integrated bid team responsible for producing high-impact RFP responses and presentations, and creating the knowledge management system used by an entire global coverage team.
George has also held various marketing, strategy and communications positions in Commercial Banking and the Corporate & Investment Bank during his tenure at JPMorgan Chase. Before joining the firm, George serves in a client-facing role managing key strategic relationships in the Commercial Equipment Finance business at Citigroup.
George is active both inside and outside JPMorgan Chase. He was recognized as a Champions of Chase national award winner, a distinction given to less than one percent of the firm's employees annually. He was also selected to take part in JPMorgan Chase's Service Corps in London, a skills-based volunteer program that engages top employees from around the world to share their expertise with nonprofit partners so they can expand their impact on the community. Currently, he serves as a mentor through The Fellowship Initiative, part of the firm's efforts to provide adults and young people with education, skills and resources that contribute to greater economic mobility. In addition, he co-chairs the Texas chapter of AccessAbility, an employee business resource group focused on disability in the workplace, and is an active member of Toastmasters International. 
George holds a Master of Business Administration from Southern Methodist University and a Bachelor of Arts degree in English from Baylor University. He resides in Dallas, Texas, one of the fastest-growing markets for JPMorgan Chase in North America, with his wife and three children.